Case-study

Wise about Food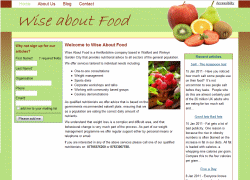 A new nutrition and health consultancy, Wise about Food needed to get it's message out there and build it's own reputation as a centre of excellence. Time being valuable the client wanted a one-stop-shop solution for all their on-line communication requirements and YellowHawk's Comms.Box™ fit the bill perfectly.
The Strategy
Site : Wise about Food
URL : www.wiseaboutfood.co.uk
What YellowHawk provided:
| | |
| --- | --- |
| Graphic design | |
| Application design | |
| Hosting | |
| Email/web-mail | |
| SurveyBox | |
To provide an easily managed web site allowing the client to keep content frequently updated and to publish 'articles' in the form of a blog. Email is an important communications tool and needed to be fully integrated with contact management (CRM) tools and site content.
What YellowHawk did
The site is based around our SME communications product, Comms.Box. Content on the site is managed by the client using the CMS elements of the system and our integrated blogging, contact management and email marketing tools mean Wise about Food can concentrate on their business rather than waste time copying data between multiple systems. Key features:
content management system (CMS) allowing the client to change page content and menu structure as the organisation evolved.
automated article publication via or blogging tool
contact management and email marketing tools
subscription management for blog and editorial newsletters
The site is fully managed by the organisation with YellowHawk providing technical support and hosting.
Back to top of page