Case-study

The Welwyn Hatfield Therapists Group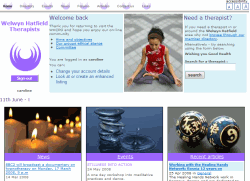 The Welwyn Hatfield Therapists Group needs to showcase its members skills to the general public and communicate opportunities regularly amongst their members. They needed to keep the site fresh as new opportunities, events and members join all the time.
The Strategy
To promote the members services through a website with a searchable member directory open to the public and a private area for members to network.
What YellowHawk did
Site : The WHCPG
URL : www.welwynhatfieldtherapists.co.uk
What YellowHawk provided:
| | |
| --- | --- |
| Graphic design | |
| Application design | |
| Hosting | |
| Email/web-mail | |
| SurveyBox | |
Implementation of a website with public and privately available sections including:
publicly searchable directory of members by name or type of therapy
basic listings and enhanced listings which give members a micro-site within the site, and the WHCPG an additional revenue stream
membership information managed by the members themselves
discussion forums
member written articles to promote their therapies and to create awareness
news and events
moderation of content by committee members
application work-flow allowing committee members to check qualifications and insurance and to receive payment membership completes
Why YellowHawk?
Their previous site was static and could not be changed without going back to the original designer - incurring both cost and delay every time. We gave them a modern looking site that they could manage themselves and gave members the added benefit of having their own web pages without the need for a website. Individual members can build their own web page for only £12 a year and be part of a large searchable directory of therapists.
Outcome
The number of members has increased from the previous year, with approximately a 25% take-up of enhanced listings.
Back to top of page