Case-study

LondonStreetWorks.net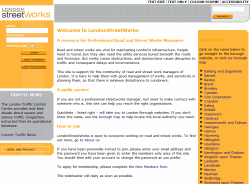 Transport for London needed to build a sense of community among the professionals of the 33 autonomous London Boroughs and hundreds of service utilities undertaking roadworks in London
The Strategy
To create an online service with its own independent identity that could meet the information needs of the hundreds of organisations and thousands of individuals as contributors and recipients.
What YellowHawk did
Site : London Streetworks
URL : www.londonstreetworks.net
What YellowHawk provided:
| | |
| --- | --- |
| Graphic design | |
| Application | |
| Hosting | |
| Email forwarding | |
| SurveyBox | |
Design, implementation, hosting and maintenance of a protected site including:
Content Management
Member administration
Event calendar
Meeting management
Member profiling and search function - providing an industry address book
To keep the database up-to-date, periodic automated email polls to confirm details
Searchable library for images and documents
Discussion forums for topic specific and community specific debate
Daily email alerts summarising activity on the site and inviting/encouraging members to share their views and experiences.
Newsletter administration and generation
Development of distinct sub-communities with access control, separate administrators and protected content.
The site is managed internally by a full-time webmaster using YellowHawk Content.Control™ technology.
Outcome
Over the four years since the original release of the London Streetworks site, membership has been steadily growing until now there are over 2000 accounts representing over 300 organisations.
The site has been continually developed in partnership with TfL to include additional features as the community evolved. As well as the original community, a number of 'internal' special interest groups have been configured, each with a private microsite with derived branding.
In 2004 the London Streetworks site was given a second 'skin' and now also exists as the home of the London Highways and Utilities Committee (http://www.lhauc.co.uk).
For the last three years the site has provided a further marketing microsite for the London HAUC 'expo' (http://www.lhauc-expo.co.uk).
Back to top of page