Case-study

SurveyBox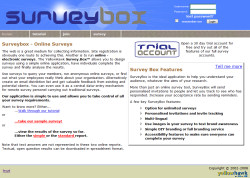 SurveyBox™ is our internally developed questionnaire product providing both a subscription based access to our clients and a flexible platform on which to deliver bespoke requirements
Also available as a White Label/OEM product direct to research organisations.
The Strategy
Site : SurveyBox™
URL : www.surveybox.co.uk
What YellowHawk provided:
| | |
| --- | --- |
| Graphic design | |
| Application design | |
| Hosting | |
| Consultancy | |
We had a clear set of requirements that lead to the development of SurveyBox :
Ease of use allowing non-technical research staff to create high quality surveys
Rich and expandable set of question types
Conditional question flow
Ability to 'own label' for research organisations
Support multi-language surveys
Concurrent sample sets
on-line reporting
Surveys meet accessibility guidelines
What YellowHawk did
You can see SurveyBox yourself - sign up for a trial account and create a survey!
As well as the vanilla product we have also developed customisations to integrate into specific client business practices, including dedicated integration to support activities such as employee 360 degree feedback processes.
There's more information - and a sample survey in our SurveyBox area of the site.
Back to top of page