Case-study

The Purple Edge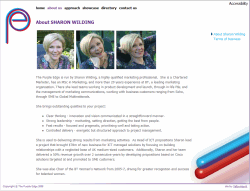 A new marketing consultancy, The Purple Edge needed to get it's message out there and build it's own reputation as a centre of excellence. It's own online presence had to provide the tools it needed to communicate with potential clients.
The Strategy
To provide a fresh easily managed web site allowing The Purple Edge to keep content frequently updated and to publish 'articles' in the form of a blog.
What YellowHawk did
Site : The Purple Edge
URL : www.thepurpleedge.co.uk
What YellowHawk provided:
| | |
| --- | --- |
| Graphic design | |
| Application design | |
| Hosting | |
| Email/web-mail | |
| SurveyBox | |
YellowHawk refined an outline graphic design around our Content.Control™ content management system and implemented the key features the client required to build reputation and to reach out to potential clients :
content management system (CMS) allowing the client to change page content and menu structure as the organisation evolved.
marketing blog
subscription management for blog and editorial newsletters
The site is fully managed by the organisation with YellowHawk providing technical support and hosting.
Back to top of page