Case-study

Orange Bloom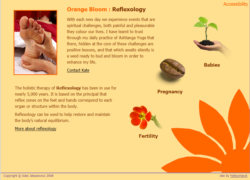 Orange Bllom is an example of a basic business web-site for a small sole-trader, in this case a Reflexologist. Compared to other sites the requirements here were more modest, but no less important : uncluttered high impact design, fast delivery, optimised for search engines, manageable.
The Strategy
To provide a high quality search-engine friendly site using an entry-level variant of our Content.Control™ product. Content.Control™ offers huge flexibility for those that require it - but in cases where that flexibility isn't necessary it is hidden.
The client is provided with a set of simple tools that allow copy changes to be made as and when required without recourse to YellowHawk. A simple contact form allows the client to be reached without exposing email addresses to potential on-line harvesting.
What YellowHawk did
Site : Orange Bloom
URL : www.orangebloom.co.uk
What YellowHawk provided:
| | |
| --- | --- |
| Graphic design | |
| Application design | |
| Hosting | |
| Email/web-mail | |
| SurveyBox | |
YellowHawk worked with Kate Jakszewicz to agree a graphically appealing design, sourcing images and translating a concept into an implementation. That implementation is hosted within the Content.Control™ CMS framework allowing Kate to make changes to her own web-site as and when required.
YellowHawk providing technical support, hosting and design aid for non-trivial page changes.
Back to top of page